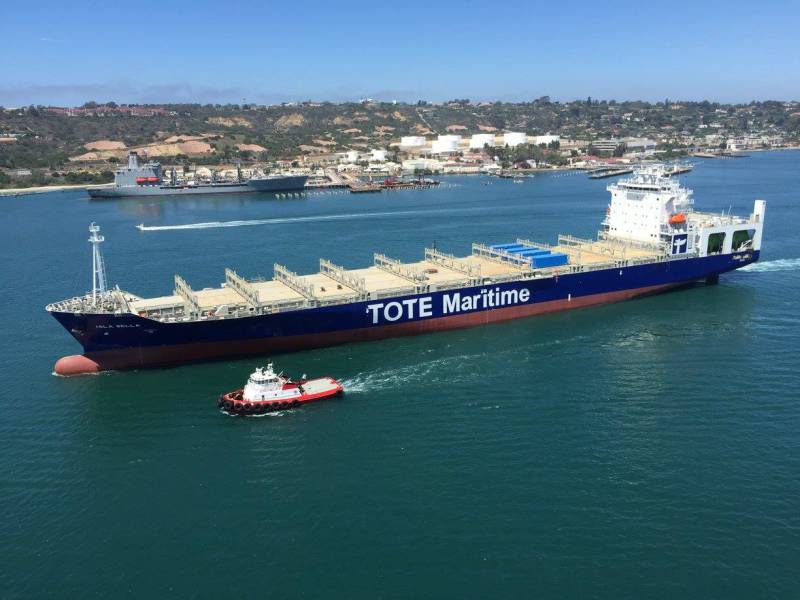 San Diego's General Dynamics NASSCO has built the first LNG powered containership. The 764-foot long Isla Bella was delivered earlier this month to TOTE Maritime, two months ahead of its scheduled delivery. The containership is part of a two-ship contract with TOTE that was signed in December of 2012. The second ship, Perla del Caribe, was launched in August and is expected to enter service at the beginning of next year.
The Marlin class containership is currently the largest dry cargo ship powered by LNG, making it the cleanest ship in the world. In the switch to natural gas, the ship will reduce NOx emissions by 98%, SOx by 97%, carbon dioxide by 72% and particulate matter by 60% compared to TOTE's vessels currently in service.
In January of 2013, TOTE and NASSCO also signed a contract to convert two of TOTE's existing diesel-electric trailerships to LNG propulsion. The 839-foot Orca class ships were originally constructed by NASSCO in 2003.
The construction of these ships marks a successful partnership between TOTE, NASSCO, the American Bureau of Shipping, and the U.S. Coast Guard, who issued the final inspection of the LNG powered ship. The four collaborated on the design, construction and final commissioning of the ships.