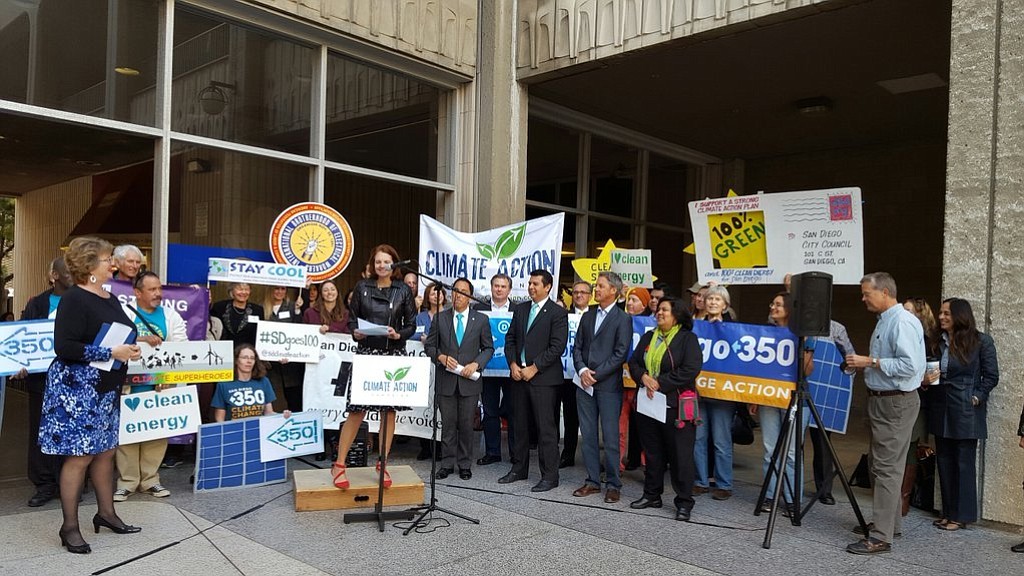 Last month, San Diego's City Council unanimously approved a Climate Action Plan (CAP) with the ambitious goal of switching to 100% renewable energy and cutting greenhouse gas emissions (GHG) in half by 2035. The CAP has been under development for five years, with its final version released in September 2014 by Mayor Kevin Faulconer. The CAP includes five main strategies for reducing GHG to achieve 2020 and 2035 targets:
ENERGY & WATER EFFICIENT BUILDINGS
CLEAN & RENEWABLE ENERGY
BICYCLING, WALKING, TRANSIT & LAND USE
ZERO WASTE (GAS & WASTE MANAGEMENT)
CLIMATE RESILIENCY
A breakdown of GHG emissions in San Diego shows that transportation contributes 55% of community-wide emissions, mostly due to the high frequency of single-occupancy vehicle trips. Accordingly, the CAP calls for cutting the proportion of San Diegans who commute by car from 87% to 50% by 2035, with a specific focus on residents who live within a half mile of existing or planned transit stops. The population of those living in these "Transit Priority Areas" is expected to be about 60% of San Diego residents by 2035. To achieve this goal, the plan calls for shifting commute choices away from the personal car and toward transit, bicycling, and walking. The plan calls for an increase in transit usage from 10% to 25%, bicycling from 1% to 18%, and pedestrian travel from 1% to 7% by 2035.
The Bicycling, Walking, Transit & Land Use strategy of the CAP includes actions to improve mobility, enhance vehicle fuel efficiency, and reduce overall vehicle miles travelled (VMT) of personal cars. The CAP states that by changing land uses and adopting a new community design perspective, San Diego residents will be able to decrease their travel distance and rely more on alternative forms of transportation. Other implementation methods include revising and managing parking standards, retiming traffic signals, and installing roundabouts in congested intersections. Additionally, one of the Clean and Renewable Energy goals includes increasing the number of municipal zero emissions vehicles. The target is to increase the number of municipal fleet ZEVs to 50% by 2020 and 90% by 2035.
A full list of the Bicycling, Walking, Transit & Land Use strategy's goals, actions, and targets are outlined below.
Bicycling, Walking, Transit & Land Use Strategy 

Goals, Actions and Targets

Goal

Action

Target

Increase the use of mass transit
Implement the General Plan's Mobility Element and the City of Villages Strategy in Transit Priority Areas to increase the use of transit.
Achieve mass transit mode share of 12% by 2020 and 25% by 2035 in Transit Priority Areas.
Increase commuter walking opportunities
Implement pedestrian improvements in Transit Priority Areas to increase commuter walking opportunities.
Achieve walking commuter mode share of 4% by 2020 and 7% by 2035 in Transit Priority Areas.
Increase commuter bicycling opportunities
Implement the City's Bicycle Master Plan to increase commuter bicycling opportunities.
Achieve 6% bicycle commuter mode share by 2020 and 10% mode share by 2035 in Transit Priority Areas.
Reduce vehicle fuel consumption
Implement a Traffic Signal Master Plan to retime traffic signals to reduce vehicle fuel consumption. Implement a Roundabouts Master Plan to install roundabouts to reduce vehicle fuel consumption.
Retime 200 traffic signals by 2020. Install roundabouts at 15 intersections by 2020 and an additional 20 intersections by 2035.
Promote effective land use to reduce vehicle miles traveled.
Implement transit-oriented development within Transit Priority Areas.
Reduce average vehicle commute distance by two miles through implementation of the General Plan City of Villages Strategy by 2035.