Join the San Diego Regional Clean Cities Coalition in the site visit and tour to UCSD Fleet Services on July 23 from 10:30 A.M. to 2:00 P.M.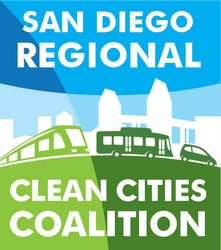 Tour will be hosted by:
Byron Washom
Kevin Norris
Gregory Nishihira
The facility tour will feature:
Vehicle to Grid Demonstrations by Nissan, Honda and Chrysler
Solar + Storage + DC Fast Charging Plaza
First Generation Smart Chargers using ISO 15118 protocol
   Shell demos on Level II
Electricity d'France (EDF) Flex Power prototypes
2.5 MW/5 MWH battery system
2.5 mgal thermal energy storage
2.8 MW Fuel Cell with 350 ton absorption chiller
In depth explanation of our charging station infrastructure; including logistics, construction and funding
Tour of the CNG station
Tour of the Fleet Services service areas including our fuel station
Tour of our maintenance facility, which will showcase many of the things we do to have earned the Dept. of Toxic Substances Control Board's award as a "Model Green Shop"
Lunch will be included. Parking Permits will be provided to participants. Please arrive 30 minutes early to park.
Address for tour:
Campus Services Complex, La Jolla, CA 92093
Parking permits will be given to participants as they drive in the lot.
Address for Parking:
Lot P702, La Jolla, CA 92037
Register before July 12, 2019 to attend.