San Diego Earthworks is hosting its 25th annual EarthFair in Balboa Park, Sunday April 27, 2014, from 10 a.m.- 5 p.m. EarthFair is one of the largest, free environmental fairs in the world, and it's happening in our backyard! This year, Earthfair will have over 300 exhibitors, special theme areas, a Food Pavilion, a special Children's Activity Area, five entertainment venues, the Children's Earth Parade, the eARTh Gallery art show, and the Cleaner Car Concourse.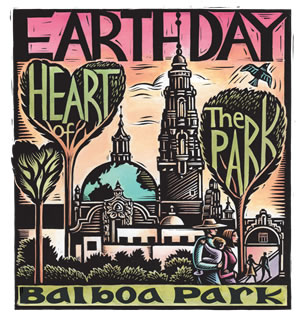 At any point during the fair, 60-70,000 people might be present, so any attempts to park in after 10:30 will be futile. However, there are plenty of alternative transit options that are highly encouraged in case you don't get that lucky spot in the parking lot.
Alternative Transit Options
Take the Trolley: the Blue or Orange Trolley lines stop within a 10 minute walk from the Park
Take Route 7 bus: this stops on the corner of 11th Ave. and C St where you can take a shuttle into the Park
FREE Earthfair shuttle from the corner of Park Blvd. and Russ Blvd., which will be running from 10:30 a.m. to 6:00 p.m.
iCommute help from SANDAG
Off-Site Parking lots and Free shuttle service
If you want more information on these methods of transportation,
click here
. For a list of EarthFair exhibitors,
click here
.  For more information on EarthFair in general,
click here.
Earthfair is a great way to get you and your family involved and interested in sustainability efforts in the San Diego region, and how to get involved in your own home, work, and schools.