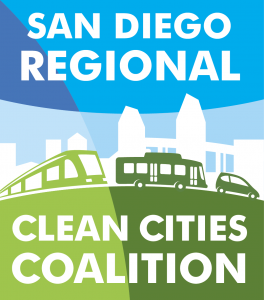 The San Diego Regional Clean Cities Coalition is part of a Department of Energy program consisting of nearly 100 volunteer, community-based coalitions that develop public and private partnerships to achieve cleaner communities by changing the ways we use fuel. The coalition's main goals and objectives are as follows.
Increasing the use of alternative fuels, including ethanol, natural gas, propane, hydrogen, biodiesel, electricity, methanol and p-series renewable fuels
Supporting the development and expansion of a fueling infrastructure necessary for regular use of alternative fuels
Promoting other vehicle-related programs such as fuel economy, hybrid and plug-in vehicles and idling reduction that result in decreased petroleum consumption and reduced emissions
Serving its members by disseminating information, organizing workshops, conferences, researching grant opportunities and identifying partnership opportunities
Providing opportunities for collaboration among members and regional partners
Promoting informed consumer choice on fuel economy
Increasing the acquisition of hybrid vehicles by fleets and consumers
Developing partnerships, investigating opportunities for joint projects, leveraging resources and collaborating on public policy issues and change
Through these efforts, the Clean Cities Coalition hopes to meet the program's goal of displacing eight billion gallons of petroleum in the transportation sector by 2020. Members of the coalition support controlling fleet operating costs, improving air quality and promoting innovative technologies.
Clean Cities' 13,000 stakeholders operate thousands of alternative fuel vehicles nationally. Clean Cities' efforts have helped place more than 660,000 AFVs on the road and in 2011, Clean Cities activities helped to avert more than 5.8 million tons of GHG emissions.
The San Diego Regional Clean Cities Coalition is coordinated by CJ Knoble, Rick Teebay, and Kevin McArthur.
KEVIN WOOD
Kevin  is coordinator of the San Diego Regional Clean Cities Coalition and Clean Transportation Project Manager at the California Center for Sustainable Energy.  Kevin works with fleets and consumers to help evaluate the economic and environmental benefits of alternative fuels and other sustainable transportation measures. Kevin has a bachelors in Political Science from UC San Diego and a masters from the USC Price School of Public Policy. He has more than six years of experience helping public agencies and private organizations adopt sustainable practices.   Through the U.S Department of Energy's Clean Cities program, he works with a diverse group of public and private stakeholders to expand infrastructure and increase the use of alternative fuels in the region.