Prop 1B Goods Movement Emissions Reductions Program to open funding application period on August 26th.  See the Prop 1B GMERP Application Workshop announcement here.  From the flyer:
The San Diego Air Pollution Control District will have approximately SIX MILLION DOLLARS AVAILABLE to California truck owners* to replace or repower their older, polluting, and aging diesel trucks to newer, cleaner, and more efficient equipment!
Applications for funding will be accepted from August 26 to October 10, 2013.
District staff will be available at the following times to provide answers and FREE one-on-one assistance in English and Spanish to interested owners looking to apply. Don't forget to bring the documents listed on the back of this notice to help you prepare your application!

*IMPORTANT:

Single truck owners are not eligible for funding unless current truck has 1994-1995 model year engine or is already equipped with a diesel particulate filter retrofit.

Trucks subject to the ARB Drayage Truck Regulation are not eligible for funding.
Three free workshops for one-on-one assistance in completing the applications.  Make sure you bring the required documents outlined in the flyer linked below.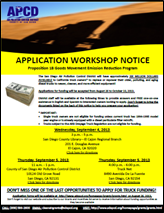 More information on can be found on the San Diego APCD website.
Wednesday, September 4, 2013
3 p.m. – 5 p.m.
San Diego County Library—El Cajon Regional Branch
201 E. Douglas Avenue El Cajon, CA 92020
Thursday, September 5, 2013
4:00 p.m. – 6:00 p.m.
Truck Net
8490 Avenida De La Fuente
San Diego, CA 92154
Thursday, September 5, 2013
11 a.m. – 1 p.m.
County of San Diego Air Pollution Control District
10124 Old Grove Road
San Diego, CA 92131