Best Practices for Alternative Fuel Infrastructure
Increasingly, fleets and consumers in Southern California are Converting to alternative fuel vehicles and creating greater need for accessible infrastructure.
Implementing a fuel station can be daunting, so we've gathered some experts to walk you through the deployment processes for natural gas and electric vehicles and the requirements for refueling stations.
Event Topics
Permitting, site specification, equipment and financing
Recommendations for workplace and multi-unit dwelling charging stations
Advice to fleets on gathering station development support
Communication needs (Fill time, maneuverability, location, etc.) to cities and station developers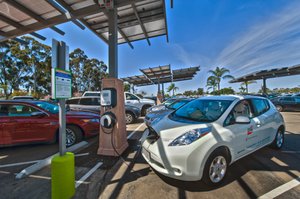 Date: Wednesday June 18, 2014
Time:
11:00 a.m. – Registration
11:30 a.m. – Electric Infrastructure
12:30 p.m. – Networking Lunch
1:00 p.m. – Natural Gas Infrastructure
Location: 
California Center for Sustainable Energy
9325 Sky park Court, Suite 100
San Diego, Ca 92123
Event Speakers
Randy Schimka, San Diego Gas & Electric– Randy is a Project Manager in the Clean Transportation Group at SDG&E. Randy will provide an overview of regional electric infrastructure and provide recommendations on planning and installing electric vehicle charging stations for public and private use.   

Chris Schmidt, Caltrans– Chris is Public Transportation & Grants Branch Chief at California Department of Transportation (Caltrans).  Chris will discuss the challenges Caltrans has faced implementing electric vehicle infrastructure and provide insights to overcome these challenges.

Steve McCarthy, Clean Energy– Steve is Western Regional Sales Manager at Clean Energy. Steve will detail the deployment process for establishing a natural gas fueling station and provide recommendations on financing, permitting and site specifications.