The California Energy Commission's NGV Buydown Program is available to buyers of CNG Vehicles who purchase CNG vehicles from authorized dealerships.  Funding will be allocated to eligible dealerships shortly and customers can have their dealer submit an application for grant funding between the February 28, 2014 and May 1, 2014.  Buyers are advised to submit early, since funding may be distributed on first-come-first-serve basis.
Vehicle Specs for the CEC NGV Buydown program are as follows:
Max Vehicles per "single end-user": 10 NGVs
Incentive Amounts per NGV by Gross Vehicle Weight (GVW):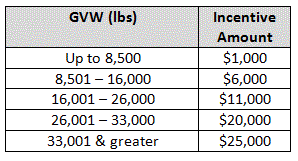 Vehicles must be new, on-road natural gas light-, medium-, or heavy-duty vehicles or school buses (Transit buses NOT eligible).
Purchasers must register the eligible vehicle(s) in California with CA DMV for 3 years
The purchaser must operate the eligible vehicle(s) in California 90% of time for 3 years.
Dealer must complete application and have authorization from OEM
Vehicle cannot be sold until AFTER the CEC approves a dealers' reservation.
Grants must directly reduce the purchase price of eligible vehicles, after all applicable taxes and fees are applied.
The value of the incentive must accrue entirely to the purchaser at time of vehicle sale.
More details are available at:
http://www.energy.ca.gov/contracts/PON-13-610/
Clean Energy can assist with grant funding applications for interested parties.
Any interested parties can contact Jack Hogan (Clean Energy) at (949) 437-3806